Author | Essayist | Journalist
John Harbour is a United States Air Force veteran where he was a hostage rescue sniper with the Emergency Services Team (EST) and the leader of an airborne quick response team (AFT). He was last stationed outside of Las Vegas in the middle of the Nevada desert. He also served as diplomatic protection at the United Nations headquarters in New York, is a classically trained actor, has tended bar, worked in advertising and technology and enjoys nothing more than traveling the world searching for stories.
John lives in New York City with his wife and is the author of essays, articles, short fiction, the novel Nighthawks, and Diary of a Hippie: A Real-Life Journal of What to Expect During a Total Hip Replacement. As a journalist, he covers New York City FC as The Man in Seat 9. He is an incurable wanderlust and is currently working on the novel The Heart.
"Non, je ne regrette rien"
I write. I cook. I travel.
Some of my earliest memories are of being a Sous Chef for my father — sautéing shallots for Steak Diane or onions for curried chicken. Or going rogue and sautéing freshly caught crayfish in butter and garlic for friends who wondered what the hell I was doing — and, of course, of doing the dishes. There are also memories of exploring and pushing against the physical boudaries arbitrarily set by parental edict and geography. There is something about those memories that still push me forward.
I want to touch every ocean and walk on every continent, taste every taste, and experience all life has to offer and then bring them back to you through my writing. That is my wish. That is my goal.
I enjoy creating worlds and telling stories. And I thank you for allowing me to be your guide into my imaginary worlds. I hope you enjoy reading about them as much as I enjoy creating them.
Live life with no regrets! Do what you like, like what you do.
Nighthawks
It's the eighties and Groom Lake is full of secrets. Outside of the public view and working in the dark, the Special Access Projects of Area 51 become the go-to solutions for some of our nation's most sensitive problems. With North Korea increasing their tactical nuclear capability and the President demanding information, General Mitchell goes once again to his Top Secret arsenal to get results. When the mission goes awry, there is only one team secret enough to set things right — the Nighthawks.
Nighthawks is a provocative thriller that provides insight into the duty, honor, and sacrifice of those who work in secret, doing great deeds that forever remain unknown.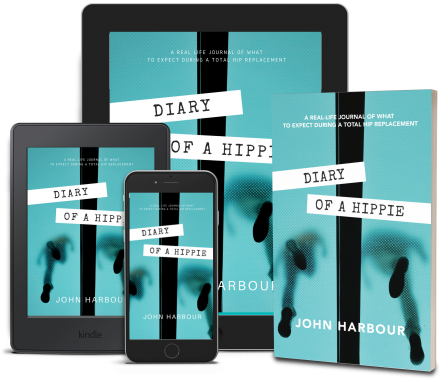 A personal account of getting a total hip replacement, Diary of a Hippie, chronicles the author's journey from diagnosis through the operation and recovery. John shares his fears, hopes, joys, and information gleaned during undergoing the process himself. Combined with inspirational quotes relevant to the steps along the way, Diary of a Hippie provides invaluable insight into what to expect once you decide to have your hip replaced.
"This book moves fast and doesn't let go. It contains a mixture of missions — surveillance and rescue — that converge in a the tense climax. The action and peril here are always close. Even in what seem to be restful moments, the action is only a few pages away."
"Buy this book. Read this book. Tell other people about this book. It's good.."
Diary of a Hippie:
"Most books about medical procedures are written by doctors or other health care professionals. It's always fascinating to hear the patient's perspective. The book contains a lot of good information and can be very helpful for other patients considering hip replacement or scheduled for the procedure."
Other channels where you can read John's writing.
Old Fashioned Mail
217 W 18th St
Unit 1691
New York, NY 10113-9667
USA